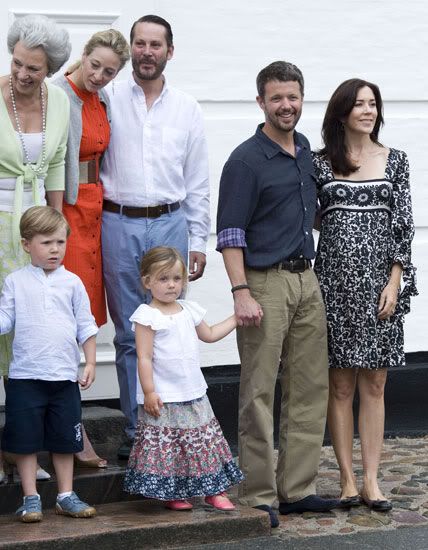 I was at the supermarket last night and I picked up the latest
New Idea
magazine and flicked through it as I was waiting at the checkout (as you do). It featured Princess Mary of Denmark who is expecting twins in January, which is not news to most. I am excited for them! It is lovely news.
I really like Mary. I think she is poised and glamorous and, for a person not born into the life she leads, she is dealing remarkably well with the oppression, paparazzi and conservatism. She has mastered regal.
Even my love of Mary couldn't stop me from being irritated by the article about her expected "double miracles", as Frederick put it.
In an attempt to 'get a scoop',
New Idea
reported absolute drivel about the pregnancy.
Firstly, although Mary and Fred did not state that they know what the gender of the babies are, there was a little 'box' stating that the sonographer at the hospital was calling them Princess A and Princess B, so they drew a long bow from this and proclaimed them to be girls! How many weeks pregnant is she?
They very well could be female, but it being August, and the babies not being due until January, there is a fair chance that the parent's don't
know
the gender of the babies yet (unless she's had chromosomal testing, or the like). Mary and Fred may not know, but the Australian public does.
Secondly, the same little box stated that the 'girls' are identical babies. Now, I assume from this confident statement that there is only one sac present (which occurs in only about 30% of twin pregnancies), but I do not know if this is the case or not.
Incidentally, if there are two sacs there is no way to tell if the babies are identical or not in utero.
As I only skimmed the article, I don't know if Mary confirmed she is expecting monozygotic twins (aka identical), but the headline of the article would suggest so, so we shall continue.
The article went on to 'out' the last twins born into Frederick's family and stated something along the lines of "twins run in his family". This really gave me the shits.
Identical twins are seen as a 'random event' and are not known to 'run in families'.
The example they gave in the article was of a set of female twins born in 1972 from the wife of Frederick's cousin.
WTF?
The known genetic aspect of twinning relates to fraternal (dizygotic twins) in which women in the family release more than one egg (hyperovulation).
How
New Idea
made a connection between
Frederick's male cousin's wife
and the alleged identical twins that Princess Mary is carrying is completely beyond me! These two situations are interesting yes, but in no way related to each other.
I wish these publications would do some research.
I suppose when even your own doctor can ask the question "Are they identical?" when you have had boy/girl twins, it may be asking too much for a journalist to have some understanding of the mechanism of twinning? But then, if it is your job to interview such big celebrities, you'd think you'd do your homework so you didn't look like a complete doofus (and annoy every twin Mum that reads your article)!
Photo credit: This comes from http://danishroyalwatchers.blogspot.com/ a blog dedicated to Mary and Fred and family.