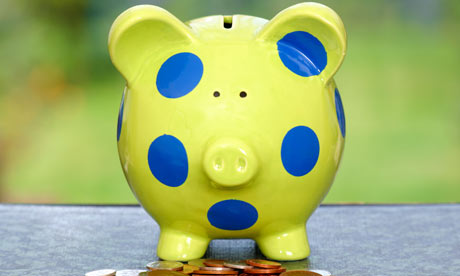 We have recently started giving Nugget pocket money. The Geege and I decided that we would start doling out pocket money when our kids start school, but it has taken us 9 months to get going with it because we had trouble deciding on the rules. (Poor Nugget might be entitled to some back-pay but we won't tell him about that just yet!)
In the end, we turned to our National financial
knob
hero, David "Kochie" Koch for help and guidance. In his book
Kochie's guide to keeping it real - My cradle to grave approach to family and finance (2006)*.
(doesn't the title just highlight his knob-factor?) Kochie gives out some sound advice about pocket money.
When to start handing out pocket money
Obviously this is a decision that is yours to make for yourselves, but Kochie says that starting when a child is five (and starting school) makes sense. They are just starting to feel a bit more 'grown up' and are able to take on a bit more responsibility. They can also open a bank account at school which will make 'saving' a bit easier for them.
How much pocket money should you give?
Well, that is totally up to the individual family. No matter how much you give, kids will try to negotiate with you and tell you that their friends are getting more and make you feel like an Uncle Scrooge. Two different systems that you might like are:
1. $5 in primary school and $20 in high school
2. $1 per week for each year of age (this can get expensive if you have a lot of children)
Kochie reported some stats that said 83% of 5-18 year olds receive an income of $12.53 per week, with the 5-7 year old bracket receiving an average of $2.41 per week. Apparently only 48% of Sydney-based parents make their children do chores for their money.
What are pocket money jobs?
You probably should spend more time thinking about this than how much money to give. Pocket money is a step for your child to learn some of life's big lessons such as 'you never get something for nothing'. Obviously there are lots of jobs in a household that need to be done that you probably shouldn't be paying your kids for, like setting the table or helping with the dishes (they are fed afterall. Is that not reward enough?).
Kochie says pocket money should be paid for extra jobs performed on a regular basis. Things that help the parents with the running of the household. Things like folding the washing (that is a 'yes' from this Mum!), mowing the lawn, dusting and other household tasks. Negotiate job allocation with the child in question because their agreement will result in a higher enthusiasm quotient. If you have more than one child, Kochie suggests rotating the jobs and avoiding 'gender typecasting in the allocations' p.106 (one of his less knobby statements!)
Tips on managing your pocket employee
This is the bit where you set boundaries for how the money should be managed. You get to help them learn money management techniques that will hopefully set them in good stead for the rest of their life (no pressure!). Kochie's tips:
Do not deduct pocket money for bad behaviour. This encourages the notion that 'bad behaviour is negotiable and not simply unacceptable' p107
Be flexible with regards to their job (e.g. in special circumstances like a sleepover), but do not be flexible on payment - no work, no pay. You may wish to encourage job swapping amongst your kids, to cover for each other, as this may promote a spirit of co-operation among the children.
Make a job checklist so that everyone knows who does what (stick it to the fridge).
Set a rule that a certain amount of their pocket money (45-70%) must be banked. Of course, as parents you can still have a say in what the rest of the money cannot be wasted on e.g. bubblegum, false fingernails.
So that is that. Kochie's steps to managing pocket money.
Other available online resources include:
Raising Children Network has a guide to pocket money with some of their usual sensible tips and advice for Australian parents.
Parenting SA's Pocket Money: Parent Easy Guide
So far Nugget is pretty happy with his new-found independence. He wants to take his 'wallet' everywhere he goes in case he wants to 'get' something. It is all about food treats for him at the moment. He is also collecting pictures out of catalogues (a favourite pastime anyway) and asks 'how many weeks do I need to save until I can get this?'. When the answer is 560 he tends to lose interest.
Have you tackled the pocket money issue in your household yet? How are you managing it?
* Pubished by Murdoch books: Australia Note: the reason I own this book is because it cost me about $5 on a clearance rack. The reason I have kept this book and am now referencing it is because it is pretty bloody great *she adds reluctantly*.