Since March 28 and signing up to the
sixitemsorless.com
challenge, I have only been able to wear six items of clothing (except underwear, outerwear, exercise gear and pyjamas). It has been an interesting 10 days!
Selecting the items:
The hardest thing was selecting the clothes I wanted to wear for the challenge. Not being an instinctive fashionista, I googled the challenge and looked through the images that other people had of the clothes they wore and read their blogs.
I discovered that too many patterns was out (limits the mix and match options).
I learnt that 'all black' was out (too dreary).
I learnt that all work and no play makes the wearer a little over dressed in situations.
I learnt you need to pick fairly durable clothes and nothing that needs dry cleaning because you need to wash your items frequently throughout the month.
I learnt that you need to be prepared for the unpedictable weather (especially at this time of year!). I opted for 'cooler' clothes rather than 'warmer' ones, rationalising that I can wear something from the 'outerwear' or 'underwear' range if need be.
But when it came right down to it, it is all about accessorising, so I selected things that I thought I had a good chance of dressing up or down with accessories, shoes, hats and bags.
The selections (excuse the photography!):
Dress; Vest; Black T-shirt (shown as brown in the photos because the black one is MIA in the piles of washing); Black pants; Red blouse; and dark denim A-line skirt.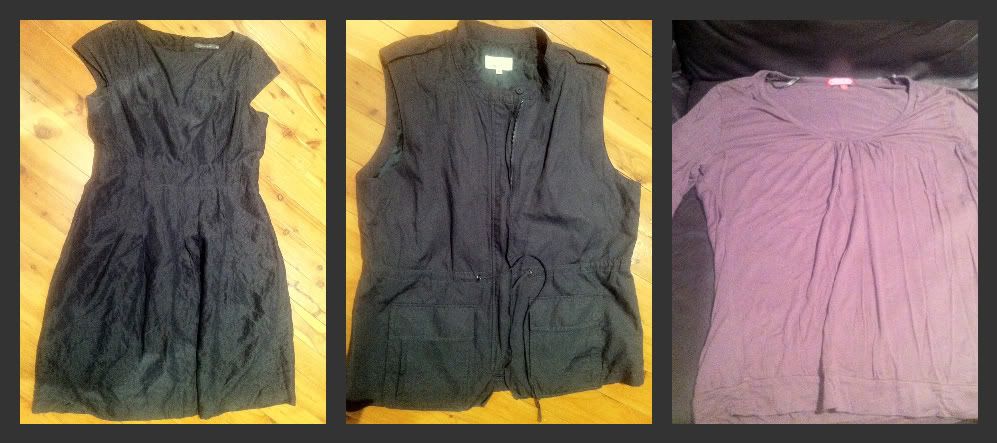 Not sure why the photo rotations are all over the place here?
Impressions from the first 10 days:
Lots of washing!
Have worn combinations of these clothes that I wouldn't have worn before with a positive result.
One of the hems on my black pants has already come down - am working on learning to sew it back up (not my skill set as you know) but have had to use sticky tape the day after it happened so that I had something to wear. Hmmm...
Have been cold at times!
After completing the Adventure race, I had to change back into my nominated clothes whereas I would have loved to have been able to stay in my trackie daks.
What do you think your six items would be and why?