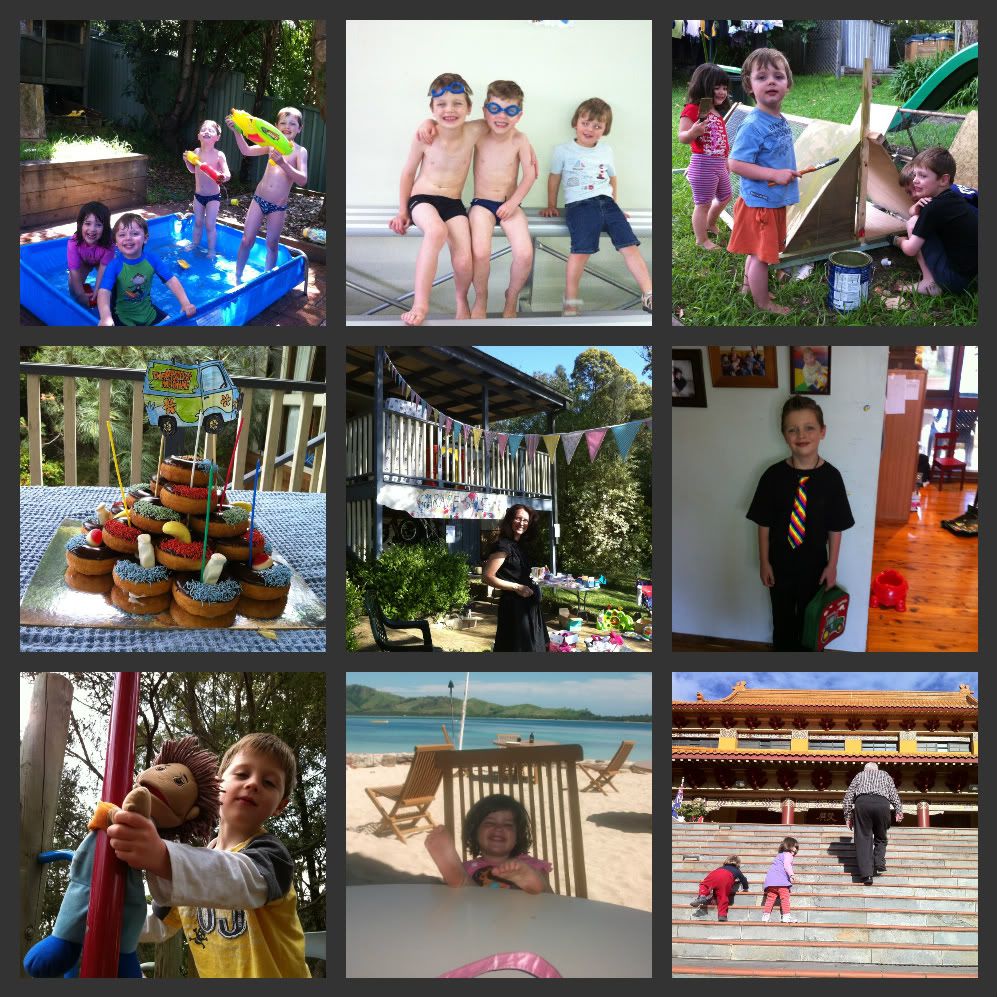 This time last year I was busily making plans for the new year, writing wrap-ups of the best movies in 2010,
the movers and shakers
, there was even a mention of
phoenix of the year
(which I awarded to Kevin Rudd but someone picked up could easily have been given to Geoff Huegill).
This year there will be no 'best of's, not even
a post about lessons learnt
. Unfortunately, I just do not have the time to think these things through. So instead my final post for 2011 will be a list.
THE LIST
I keep failing to follow through on things. For example, the garage sale we had last month went pretty well. I sold 71 items and shipped the rest of the stuff off to the charity store. Made a few bucks and decluttered too. Win:win. All the preparation paid off. So sorry

Mel

that I failed to write a follow-up post. I hope you have forgiven me?

I am better at entertaining than I thought. Doo Dah had the best Scooby Doo birthday party at the weekend. I was proud of myself for pulling off a eviable party on a budget. Doo Dah has been insisting on wearing Shaggy 'whiskers' every day since. So easy and so cute (Dew Drop copies and is edible). We backed up on the same day with a Christmas gathering. Exhausting.

Kids grow up before your eyes. Doo Dah attended his final days at daycare as he transitions to big school. He is starting to read some words, puts together some spectacular constructions from blocks, colours between the lines and spends most of his time driving his siblings mad. God I am going to miss him next year.

Blink and you miss it. Nugget has successfully traversed another school year. The end of year celebrations included Musical Heights (where he surprised me no end with the improvement in his dancing abilities and how incredibly gorgeous he looks in blue eyeshadow). He survived the composite class that I so dreaded, losing teeth, renegotiating friendships and while there have been some very tricky parenting moments, be has grown up so much.

Love comes in many forms. Nugget and I developed a love affair with Harry Potter this year. His will go on hold for awhile but I will savour mine into the New Year. I bought myself the forth book for Christmas. Sneaky.

Time moves on. We do not own a cot, a high chair or a change table anymore. End of an era thanks to the Minx and Dew Drop moving into beds, sitting at the table for meals and getting themselves toilet trained! A big year for them.

Something needs to be done about the housing situation for this family. The Geege and I debated whether to move or renovate for much of the year. At this point we have swung back to "move", so we shall tackle that in 2012. Anyone know a good suburb on the Central Coast?

We still don't have chickens (or a usable compost). The chooks I have been talking about all year? They now have a coop and will be brought into our home in January. After our trip to Fibrotown for Christmas and up north camping with friends over New Year. The kids cannot wait. The naming game has begun. And I thought naming twins was hard?

There has to be a way of keeping track of all the books I read. I need to remember to write my book list from 2011 in 2012. I read some fabulous books that you should definitely check out. And

Karen

, you friend Torre is a lovely writer! I am completely enjoying Swept. Thank you so much for slipping me a copy.

I have enjoyed all the challenges I have set myself this year. I still have to reconcile my 52in52 list, which I will do in early January. There is a bit of time left to finalise a few things...

Christmas killed the BNN challenge. While I have been incredibly dedicated to the Buy Nothing New cause this year, the Christmas frenzy has got the better of me. I am disappointed with myself but unfortunately I have run out of time to make all the things I had planned. Don't worry. I have whipped myself (which I kind of enjoyed) and promise to be back on the wagon. Piss poor effort.

I will be having a giveaway! I will be tackling a new weightloss challenge (90 days) with the

Food Patrol

. The best bit is that one of you will be able to join me because they have agreed to sponsor an And then there were four reader too. More information to come, but if your New Years Resolution is 'get healthy', you need to tune in in January for the opportunity you have been looking for.
The next Weekend Rewind will be January 6th, 2012 hosted by EmmaK over at
Mummy's Got a Headache
. She is both fun and funny and I would love you to support her as hostess by linking up an old post for some new comment love.
Thanks a million for reading my blog this year. Thanks for all your comments and emails and
Facebook
interactions. Please come again next year when I return xx