I have been avoiding writing this post. I have been avoiding admitting that I did exactly what I always do with diets. So close, and yet so far.
On January 16, 2012 I looked like this: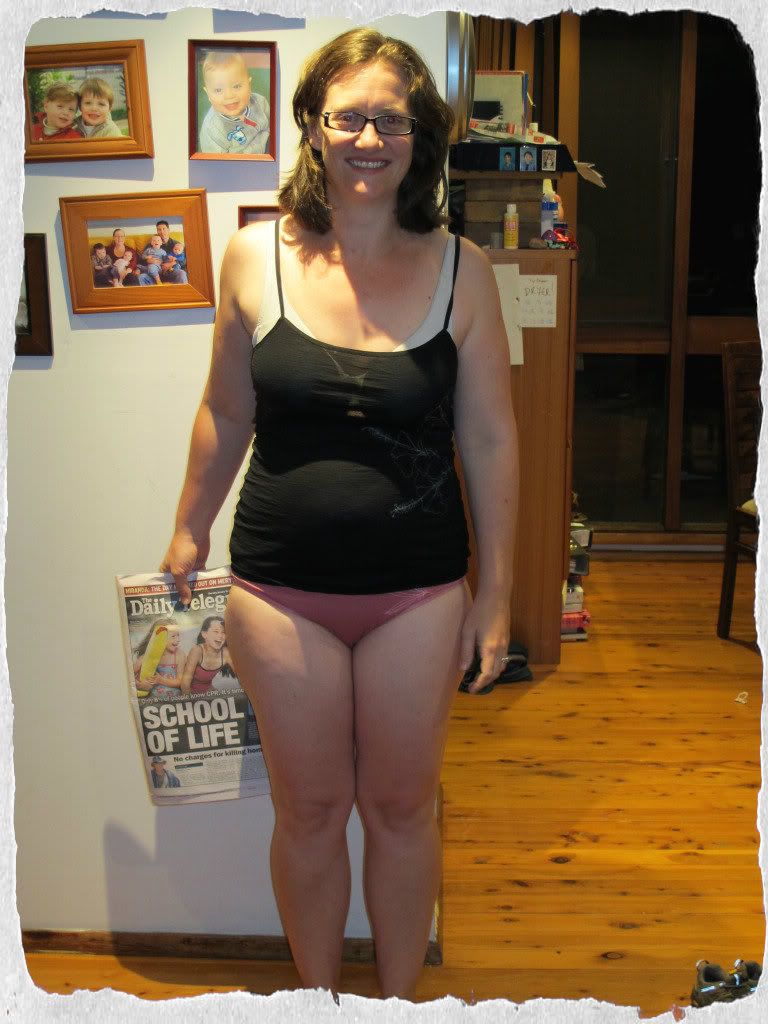 BEFORE: No idea why I am wearing pink undies on the internet.
Chest: 102cm; Waist: 99cm; Thigh: 83cm
I completed the
Food Patrol 90 Day Challenge
on April 16.
AFTER: Still in pink undies and now with added crazy
CHEST: 94cm; WAIST: 87cm; THIGH: 64cm
The program was awesome. Easy to follow. Motivating due to the quick results I achieved at the outset. It encouraged regular exercise (although I never quite got the resistance program going which means my shape hasn't changed much). The guys at the Food Patrol office stayed in contact; they were the trainers in my corner. I felt on top of the world. Until I went to free-range in Bali.
I wrote about my Bali Blowout
. It wasn't really the 700g or so I gained that was the problem though. It was the fact that I had a taste of free-eating, and I had exactly the same pattern as I did before the program. I seemed to be able to forget about healthy eating, listening to my hunger cues or eating to a schedule.
I just seem to be able to block out sensible eating. When it suits me. I seem to be able to go into a trance and ignore myself. I refuse to get on the scales too. Another sign of denial. If I don't weigh myself, maybe it won't count?
And so when I got home, I initially lost the Bali weight. I was 74.8kg the next week. Then we had Easter. And Nugget's 7th birthday.
And my niggly hip issue became an actual problem
so I couldn't exercise without ridiculous amounts of pain. And it rained. And I got really stressed at work. And before too long, I had gone from the odd chocolate here, to a couch potato with a regular night time snacking habit and a hell of a lot of excuses.
So hard to stop. So bloody easy to start again.
I completed the challenge at 75.6kg. A total weight loss of 11 kilos (which is fantastic). The program works. It really does. It is just that my issues with food aren't really about being able to lose some weight. I have done that successfully now, and before too. It is about maintaining weight loss. It is about redefining my relationship with food. I know the Food Patrol can help me with this. I just have to get back into the head space. And it has to be about more than 90 days.
So if you think about it, I have now had a few weeks off the program if you count the weeks during the challenge where I actually put on weight and ate crap. I am already feeling the heady out of control feeling I get when I spiral downwards and pack on weight.
So it stops today. All the denial.
I woke up today and I thought, write the damned post. Admit you are out of control again, and get back on the program. Get back on the horse. Finish the damn job.
So I am. Today is Day 1. I am determined to kick this butt's butt.
Thanks so much for the Food Patrol for sponsoring And then there were four during this challenge. You had helped me in more ways than I can say :-)